A package brand identity advocating for local businesses in the Chinatown/International District of Seattle.
TEAM
Jubilee Cho, Ebrima Jassey, Annabel Lee
ROLES
Interviewing, Visual Design, Branding, Copywriting
TOOLS
Illustrator, UV Printer, Google Forms
DURATION
10 weeks
Challenge
My team and I were tasked to enhance people's experiences with their media collections. Over the course of the quarter, we conducted extensive research and developed multiple concepts, filtering each through participatory workshops and interviews. As first and second generation immigrants ourselves, we wanted to explore solutions within this space and tell the story of this frequently misrepresented group.
Solution
We developed Outside the Box, a brand identity distributed on take-out packaging advocating for local businesses against pressing issues like gentrification in the Chinatown/International District of Seattle.
Defining the Problem Space
We conducted contextual inquiry interviews with people in this group to gain insight into any possible issues surrounding media collections and the ways in which it is most commonly consumed. Additionally, we created an online questionnaire to collect more diverse responses. The main takeaways of our research came down to three principles: educate, recognition, and representation. Our participants informed us of a gap in understanding between the first and second generation.
The question we were looking to create solution for at this point was:
How might we use media as outlet for cultural expression for second generation immigrants?
Downselecting
Following our initial research, we began our ideation process by brainstorming 60 different concepts. After down-selecting through these, we had three primary concepts in which we continued to develop. The subscription based service named, "Have You Eaten Yet?", especially stood out to my team because we recognized that food in ethnic households embody not just family tradition but cultural values and history.
Home-Cooked Meal
In collaborating with our participant, we were able to articulate insights in real-time for our concept, "Have You Eaten Yet?". This workshop revealed a number of key takeaways, the most prominent being a difficulty in executing the subscription service in an efficient and effective manner. Organizing these ingredients on a large scale and obtaining accurate recipes from first generation immigrants who in many cases, cook without recipes, would prove to be difficult.
Unwritten Tradition
Our participant, Jordan, and his mother prepared a traditional home-cooked meal. She discussed with Jordan the gender roles of women in a Chinese household, the lack of written recipes, and the importance of learning through the act of doing.
Insights
After facilitating our workshop, we reflected on several key takeways from this experience. One, the recipe Jordan's mom used came from memory. The only way to learn it is by watching and repeating. Two, the home-cooked meal is a representation of family, and learning it is an important element in maintaining tradition. Lastly, Jordan's mom was surprised that he wanted to learn this recipe. Women were seen as the primary cooks in Chinese households, and so to see Jordan be interested in learning demonstrated the positive shift in tradition.
Taking a Step Back
After weighing the insights from our participatory workshop, our team decided to take a step back from our concept. We still wanted to focus on first and second generation immigrants and their relationship with food. However, "Have You Eaten Yet?" didn't feel like the solution we were looking for.
We took a trip down to the Wing Luke Museum in Seattle's International District. Our guide informed us about the history of the International District, showing us historic landmarks forged by immigrants. He explained the growing concerns of gentrification in the community and its effects on local businesses.
From our experience in the International District, our team realized that we could focus our efforts in a specific community as opposed to casting such a wide net with our previous concept. We recognized the gap in understanding of history between the first and second generation. This led us to develop a new solution that sought to advocate for these local businesses in the International District and give them a voice to tell their story.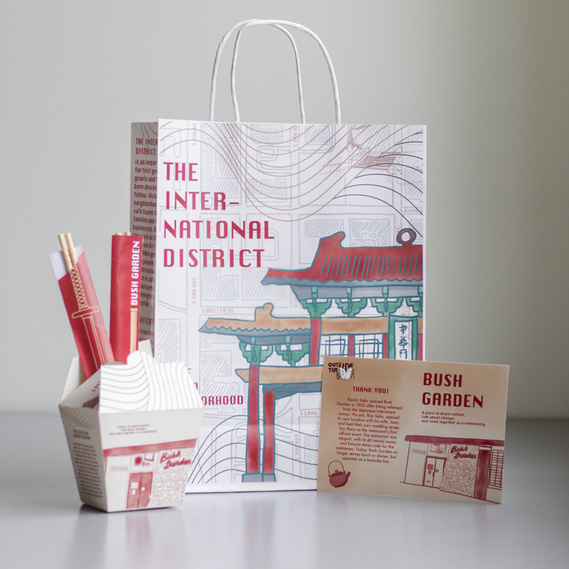 Outside the Box
Take-out packaging is a staple for restaurants in the International District. They often sport very little typography or imagery on it, which we immediately recognized as a blank canvas. In a time where food delivery services are on the rise, our team developed Outside the Box, a redesign of take-out packaging to educate those who might overlook the significance of these restaurants about its history and the people behind it.
In practice, Outside the Box would tackle on multiple restaurants, curating package designs specific to that establishment. For our prototype, we conducted a case study with Bush Garden, a historic restaurant operating since the early 1950's. We worked closely with the owner of the restaurant, interviewing her and allowing her to take charge of her restaurant's narrative. She provided many facts about her establishment and relayed stories about its cultural impact on the community.
In the Bag
The paper bag serves as a general guide to the International District. It features brief facts about the community and also replaces the use of plastic bags.
The packaging is unique to each restaurant. For Bush Garden, an image of the restaurant is illustrated on the box, and facts about the restaurant and its owner cover separate panels. The chopsticks sport a red sleeve with a samurai sword on it which is a nod to an old artifact displayed in the restaurant.
Lastly, a postcard is included as a form of gratitude and urge to share Bush Garden's story. It also gives users a chance to collect postcards from all of their favorite restaurants in the International District.